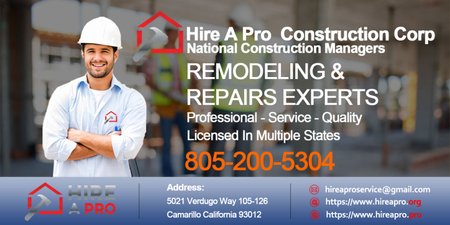 Hire A Pro™ is A Premier Asset Construction Management Service Provider. We Provide Priority Asset Evaluations and Estimates Based On Inspections & Photographic Evidence For Your Asset Real Estate Portfolio & Property Management Companies Nationwide.

We Cover Nearly The Entire United States In Coverage For Over 20 Years. Our Asset Management Strengths Are Focused In REO, Multifamily, Residential, & Commercial Assets. We Provide Stellar Service & Clients Love Our Approach To Professional Asset Assessment Needs.
*We Handle Code Violation Remediation's,
*Mold Remediation's,
*Asbestos Remediation's,
* Demolition & Clearing Services,
* Complete Rehab & Renovation Services,
* M.E.&P Inspections
* Structural Inspections
Please Visit Our Website At Http://hireapro.pro For More Info On Our Company And The Hire A Pro™ Brand We Offer.
PLEASE VISIT OUR INSTANT PROJECT NOTIFICATIONS SITE AT https://hireapro.org AND SIGN UP TODAY FOR ALL AVAILABLE WORK ORDERS FROM BOTH OUR PRIVATE CLIENTS AND PUBLIC HOME AND BUSINESS OWNERS IN YOUR AREA.
5021 Verdugo Way, Suite 105-126, Camarillo, CA
8052005304