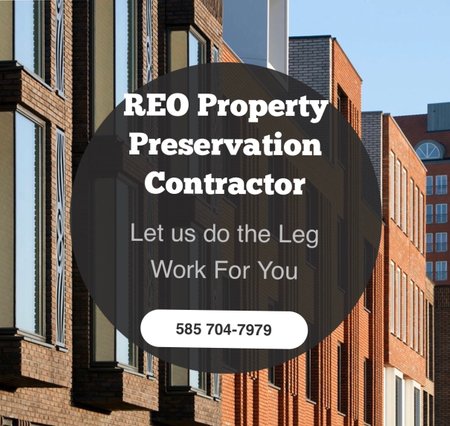 24 HOUR EMERGENCY SERVICES
REO PROPERTY PRESERVATION GENERAL CONTRACTOR

REO Bank Owned Foreclosure Assets Preservation
Photographs With all Services
Complete Documentation
Preparation for Sale or Conveyance
Ongoing Client Specific Maintenance.
Starting from Securing to Mowing & Plowing & also Demolition, Mold Remediation, Full Renovation & Remodeling Services including Roofing.
Re-keying and securitization.
Boarding to prevent vandalism or other risks to the property.
Complete or partial board-ups as requested by client or as required by local authorities.
Eviction lockouts.
Personal property and debris removal with complete documentation and photographs.
Preparation for sale or conveyance.
Initial janitorial and landscape services including clean-up, mow and trim.
Winterization/de-winterization and snow removal as required.
Initial pool servicing or securing.
Safety repairs, and ongoing, client specific maintenance.
Vacant property registration.
Relocation assistance program for previous owner.

663 Treasure circle , Webster , NY
585 704 7979