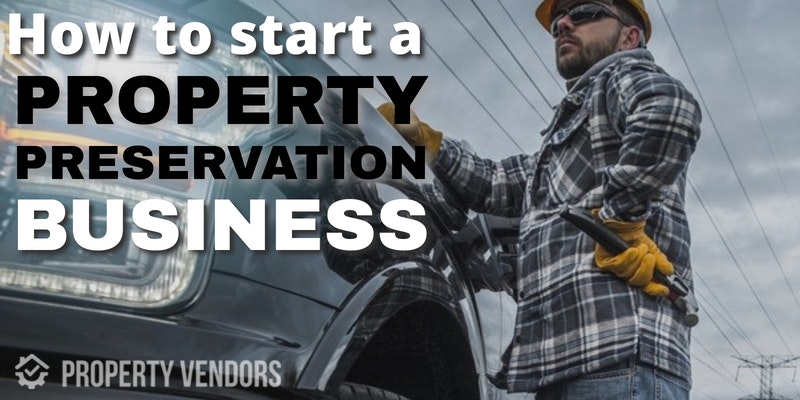 Guide to Starting a Property Preservation Business
Business Overview
Have you ever wondered what happens to buildings foreclosed upon by government agencies, banks, and other financial institutions? Millions of homes and properties are foreclosed upon across the United State of America each year. Quite a large number of properties for banks to dispose of immediately, thus the need for a property preservation contractor who clean up the building, rehabilitate it, and make it ready for sale.
The property preservation industry as we know it today was essentially born during the downturn of the economy in 2009-2010. Most people were unable to pay their debts or rents leading to the foreclosure of millions of properties. Mortgage lenders, banks, and other financial institutions were in dire need of contractors who are willing and able to clean up the properties and remodel them for new sales.
A rapid growth has been experienced in the industry and this growth is forecasted to continue over the next five years. Fluctuations are bound to occur as the economy grows but there will always be foreclosed properties needing cleanup and rehabilitation. So stop thinking and start acting.
Although a new line of business, hundreds of contractors are joining the property preservation business already. Quite competitive I must add but with the right knowledge, you are sure to excel in the industry, which is why we compiled this guide which aims at teaching you all you need to know about the property preservation industry.
What are Property Preservation Companies?
The companies which are responsible for cleaning and maintaining foreclosed properties are known as property preservation companies. When government agencies, banks, mortgage lenders, and other financial institutions foreclose upon a property, they need the help of a property preservation contractor to clean up the property, rehabilitate it, and maintain it for sales.
Though a very easy and lucrative business, there are lots of risks and liabilities involved in the property preservation industry, which is why you should learn as much as possible about the industry before starting a company.
What Do I Need to Start Up a Property Preservation Business?
Like every other business, property and preservation businesses require a few startup plans to thrive. Some of the necessary steps to follow include;
Choose a Company Name
There is no company without a name, which makes this one of the first steps to take while starting out a property preservation business. There is no guide on choosing a name. It is a private company as such you can name it whatever you choose to.
Try and make it formal but the name has little to no effect on you getting jobs. One of the top companies in the property preservation industry goes by the name – Five Brothers Property Preservation.
Write a Business Plan
Every startup company or business needs a business plan to succeed. Do not just take any plan online without checking its authenticity. A business plan is a road map that exposes you to every area of the business. It forces you to conduct in-depth research on the new career path, equipping you with the necessary facts and strategies required to excel in the industry.
Your business plan does not just serve as a guide but also shows investors reasons to invest in your business and your goals as a property preservation contractor. Need I remind you of the effect this will have on your chances of closing the contract?
The business plan must be well drafted. You can hire the services of skilled business plan writers to create a great piece for you.
Decide on the Best Business Structure
Do you want your business to be a sole proprietorship, limited liability corporation or company? You will have to decide on this before registering your business with the state.
Get a Business License and General Liability Insurance
No bank or mortgage lender would entrust their properties to an unlicensed company or one without general liability insurance. In fact, banks request for your business license and general liability insurance while signing up with them.
Your business license and the associations you register with speak a lot about your credibility. You can get your business license from the City or County offices.
Set Your Bid
Okay, this can get very tricky. The property and preservation industry is highly competitive, which means that a number of companies are bidding for the same contract as you are. You might be tempted to give a high quote so that you can earn more but that will only ruin your chances of getting the contract and future contracts even. Your bid should not be too low also so that you will not run at a loss.
Then, how exactly should I bid? First, you should conduct an inspection of the property, taking into account the dilapidated areas that would require repairs or replacement. A camera will be of help in this area as your bid needs to be detailed to win you the contract.
Consider the work to be done, the number of contractors on your team, and the price of other property preservation companies.
Using the information gathered, make your bid competitive, not too high to scare away investors and not too low to return no profit. Bear in mind that you have just one shot at this.
Also, you can have a fixed estimate for different contracts. This helps a lot as most banks and investors will request a bid or an estimate right on the spot. Being unable to provide a justifiable estimate ruins your chances of getting the job. So, you must be proactive and keep up-to-date copies of your quotes or estimates.
Hire the Necessary Manpower
Yes, it is a sole proprietor business but you will need the help of other contractors as you cannot perform all of the services alone. You would need to employ a number of independent contractors to handle the various services your company offers.
A 3-man team is a good option for startup companies – a secretary, an accountant, and security personnel. You can hire other contractors for each contract you win.
Purchase a Licensed Vehicle
Getting a vehicle – a van or truck is just as important as getting other tools and equipment as you will need it to convey these tools to the site operation. Having a vehicle makes you mobile and ready to get working as soon as possible.
Besides reliability, banks and other investors look out for the quality of work done and the speed of completing each contract. Remember the goal is to get repeat or recurring customers, as such you will need to do better than your competitors in all aspect of the property and preservation business.
You could also brand the van or vehicle to serve as a means of publicity or advertisement.
Here's an extremely well-prepared vendor showing his truck and all of his equipment:
Source: evititoe YouTube channel
Get the Required Tools and Equipment
As a startup company, you do not necessarily need heavy and technical equipment as you can hire the equipment when the need arises.
You should rather consider basic tools such as a camera, hard hat, generator, shovel, portable heater, hose, gloves, hammer, pickax, and torchlight.
Marketing Strategy
No investor will locate you at your garage or company's site as a startup company. You have to be actively involved in publicity and contacting investors like REO institutions and agencies, real estate agents, government agencies, mortgage lenders, banks, and other financial institutions.
Set up meetings with these prospective investors and display your past work and business plan.
Here are some tips to get your business up and running;
Attend as many seminars, meetups, and conferences as possible. This will help you learn from other companies in the property preservation industry and meet with potential investors also.
Create an official website for your business and be sure to carry out active publicity and advertisement.
Get listed with as many property preservation vendor directories as possible. Not just in your local state but nationally also so that your company can be visible to REO asset agents and other investors.
Engage in continuous marketing by sending emails to REO agents and directories.
Affiliation with top companies in the property preservation industry is yet another way forward. Some of the reputable established property preservation companies here in the United States includes Cyprexx Services, Hud Property Preservation, Field Asset Service, Five Brothers Property Preservation, Lender Assets Management Corporation, Mortgage Contracting Services, Carrington Property Service, and on goes the list.
Avail yourself with the benefits of social media marketing to small businesses. Link your business website to platforms like Facebook, Linkedin, and Twitter and advertise your services there.
Minimize your rate of rejecting jobs and be prepared to get working as soon as you are called upon.
Get an up-to-date bid or estimate with you at all times.
You could get business cards with your brand name on it, which you give out to prospective investors.
There are different foreclosure cleanup network you can avail yourself with also.
Area of Specialization in the Property Preservation Industry
As with other businesses, there is the need to pick a particular niche you are good at. A jack of all trade is a master of none and to excel in the property preservation industry you must be good at what you do.
Often than not, you will be tempted to venture into every area so as to earn more but I will advise you stick with one or two areas of strength. The plan is to keep them coming back. Two repeat or recurring customers could be all you need to make tons of dollars in this industry.
The property preservation industry encompasses a variety of specialties. As a startup business, you can specialize in one or two areas and widen your horizon as the business grows. The point is to be good at the services you offer so your customers are sure to come back for more.
A complete understanding of the industry is necessary so that you can tell the exact areas you fit in before venturing into it. Here are the ten basic areas you can specialize on as a property preservation contractor.
Security management
Collection of rent
Screening tenancy applicants
Managing facilities
Legal representation of property owners
Maintenance services
Repair contractors coordination
Property accounting
Property repair and renovation
Managing trash and recycling
What Kind of Services Do Property Preservation Companies Offer?
A property preservation contractor is asked to perform different tasks and sometimes you wonder if these tasks are actually part of your job description. You could be asked to clean up a toilet or break in into a locked building and you are stunned, thinking about what you have got yourself into.
Well, the industry is a pretty large one, thus comprising of a variety of services but you must be sure of the services you offer so these contractors do not use you to do their messy work.
Some of the services offered by property preservation companies include;
Automobile removal
Plumbing repairs
Lawn maintenance
Pressure washing
Rekeying locks to secure the property
Cabinetry
Repair or installation of new flooring
Winterization
Gutter cleaning
Repair or maintenance of pool
Demolition and removal of building parts
Painting
Installation of lockboxes
Electrical repairs
Landscaping
Repair or replacement of windows
Removal of hazardous waste
Removal of trash and debris
Eviction assistance
woodwork
Other Related Questions
Who Can I Work with Besides Banks and Mortgage Lenders?
As a property preservation contractor, you can work with a number of institutions, assets management companies, and government agencies. You can contact real estate agents, Federal Housing Administration (FHA), property or mortgage lenders, Department of Housing and Urban Development (HUD), banks, Veterans Administration (VA), etc., for contracts.
You can also work with top property preservation companies as a subcontractor.
What is the Meaning of REO?
REO is an acronym for Real Estate Owned. It refers to a class of properties which are owned by lending organizations like a government agency, bank or a government loan insurer.
As a property preservation contractor, you can work with these agencies to repair and maintain the foreclosed 'REO' properties.
What Qualification is Needed to Startup a Property Preservation Company?
There is no academic qualification required. The only prerequisite is your business license and general liability insurance. You can also acquire other property preservation certification to boost your chances of getting contracts.
Is Getting a Franchise Better than Starting a Property Preservation Business from the Scratch?
The entire process involved in starting a property preservation business may be daunting but it is so much better starting from the scratch than being under a franchise company. Although you will get more contracts than other companies just starting out, you have little to no right over the business strategies or pace as the franchise company determines virtually every step you take.
I will recommend you follow the necessary steps and get your property preservation business on the road without buying a franchise. You are sure to thrive in the property preservation industry if you adhere strictly to the steps mentioned in this article.
True, you will encounter different challenges but do not let that deter you.
What is the Best Location for a Property Preservation Business?
There is no such thing as the best location. You can start off right in your basement or garage provided you have enough space to store your tools and equipment and a cabinet for the paperwork.
It is advisable to locate your business in an area with many foreclosed upon properties but if you can't get a space in such area, your home will do just fine.
Take a good market strategy and contact as many investors as possible and you are sure to do just fine no matter where your company is located.
Are you a property preservation vendor?
Join our company directory and receive notifications for new jobs in your area.